Student Dress Code
---
It is our belief that appropriate school attire helps foster a positive learning environment. In line with our objective of teaching the whole child, we know that the social skill of appropriate dress presents our students with an additional learning opportunity.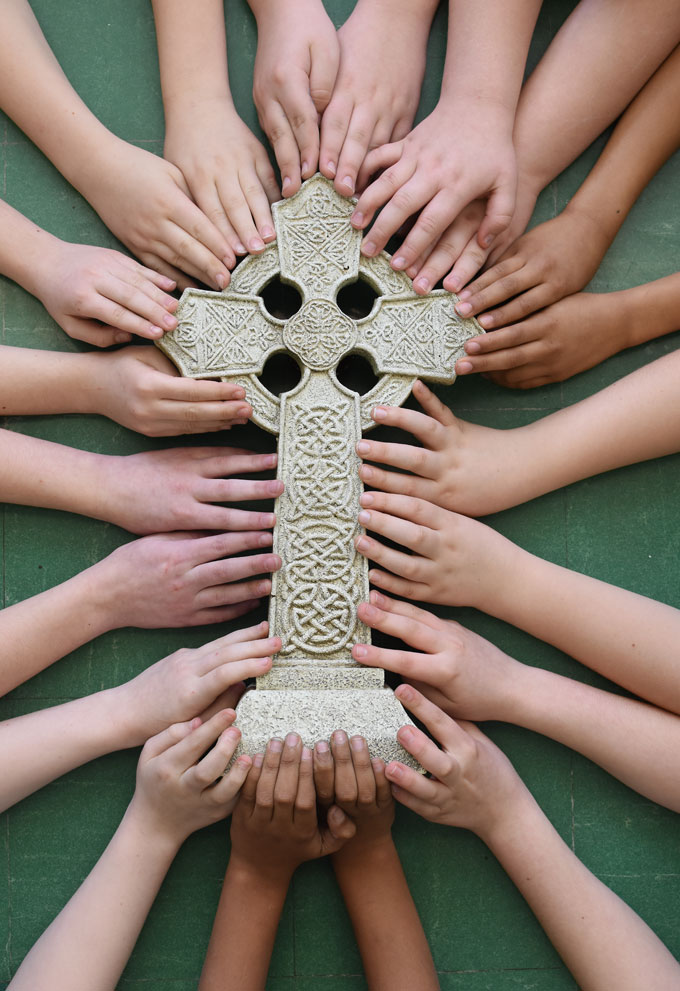 All clothing shall be clean, modest and appropriate for school. No bare midriffs, tight-fitting clothes, or low-cut tops are appropriate at any time. This includes skinny pants/ jeans. Girls' stretchy pants or shorts for gym must not be tight-fitting. No short or long leggings. Approved gym pants can only be worn on gym days.

Students will wear solid-color navy, tan or black cotton pants. Girls may substitute a jumper or skirt of solid color: navy, tan, or black. No denim or colored jeans, no cargo pants with pockets on legs, nor clothing with extra adornments are permitted. Solid-color navy or black sweatpants or athletic pants may be worn on gym days. Gym pants must be black or navy only (no grey). Gym shorts or pants should not have stripes or visible logos.

Student will wear a solid-colored, collared shirt or blouse, such as polo shirt, golf shirt, or dress shirt. A solid-colored sweater, vest or sweatshirt with current school emblem may be worn as needed over the shirt or blouse. No layered look. No sleeveless shirts or blouses. Undershirt/garment must be tucked in.

Sweatshirts, other than St. Benedict School spirit-wear, are not allowed in the classrooms.

Clothing is to be without designer labels or logos of any kind. (This includes gym shorts or sweatpants.)

Walking shorts, of a style similar to dress pants, may be worn from April 15 to October 15. They must be about knee length. (2" above the knee or longer)

Socks must be worn at all times, even with sandals or flats. Socks must be visible. Knee socks and tights must be white, navy, black or grey. Any socks (for boys or girls) above the ankle must be a solid white, navy, black, or grey without stripes, designs or visible logos. Shoes or sandals must connect around the ankles. Gym shoes must be worn on gym days.

Periodically, the Principal will announce a denim day or denim day passes will be issued, during which times jeans may be worn. (See Item A) Students may not use a denim day pass on Mass days.

Hair for all students is to be clean, combed, and styled so that it is away from the face and the eyes, above the eyebrows. Hair is not to be spiked. A boy's hair is not to be longer than the top of his collar. Hair is not to be colored.

Students who arrive to school out of dress code must wear clothing provided by the school. Parents may be called to bring appropriate clothing.
In the matter of a student's personal appearance, the decision of the school authorities is final.
Lord, make me an instrument of your peace.
Served by the Franciscan Sisters of Christian Charity for 106 years, St. Benedict School is committed to educating the whole child for life.